People leaving shelters voluntarily in Cox's Bazar after cyclone warning passes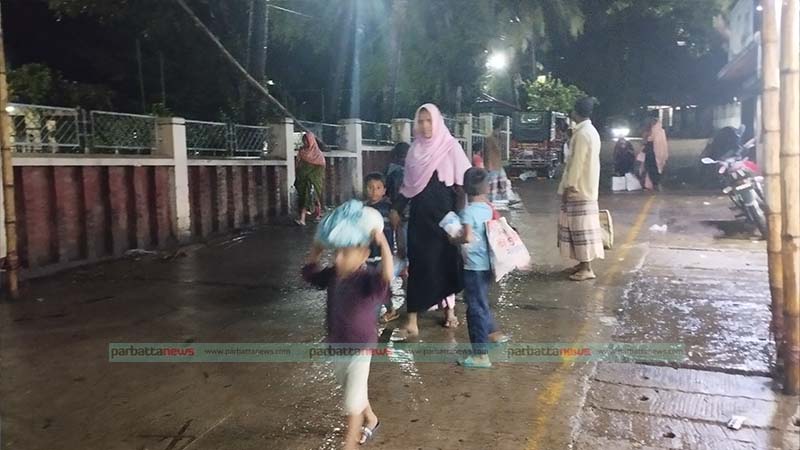 STAFF CORRESPONDENT, COX'S BAZAR
People are voluntarily leaving the shelters in Cox's Bazar and returning to their homes after the cyclone warning signal passed, according to local sources.
During a visit to the Cox's Bazar Municipal Preparatory High School shelter on Sunday evening, it was observed that the rooms were almost empty, and people had left with their cattle.
Shelters across eight upazilas of the district, including Saikat Balika High School, Government Women's College, Islamia Women's Kamil Madrasa, Taybia Taheriya, Airport Government Primary School, Umidiya Madrasa, Peshkar Para Government Primary School, and Tekpara Government Primary School, are encouraging people to leave and go back home.
More than half of the 237,241 people who took shelter in permanent and temporary shelters have already left.
The district administration and local volunteers are providing food and support to those who stayed.
Ubaye, who is in charge of the district administration's control room, mentioned that many of the sheltered people have started going home.
One resident, Ali Ajgar of Pashchim Qutubdia Para, said that staying in school with 11 family members and 5 goats was becoming difficult. Thus, they decided to return home after seeing a reduction in the cyclone's impact.
"Many like us have left for their respective homes," he added.
However, the Jasim-Koli couple of Samiti Para alleged that they were forced by volunteer team workers to leave the shelter.
Meanwhile, Alamgir Hossain, who is currently in the shelter, shared that they left many valuables at home and feared they would be stolen.
"Knowing that the effects of Cyclone Mokha have passed, we have decided to go home with our entire family," he said.
Deputy Commissioner Muhammad Shaheen Imran stated that although the cyclone's impact had passed, the sheltered people were not being asked to leave immediately.
The authorities would allow people to return home only when the rain and tide subsided, and the situation normalized.