Two Rohingyas who escaped from India held at Teknaf's Alikhali camp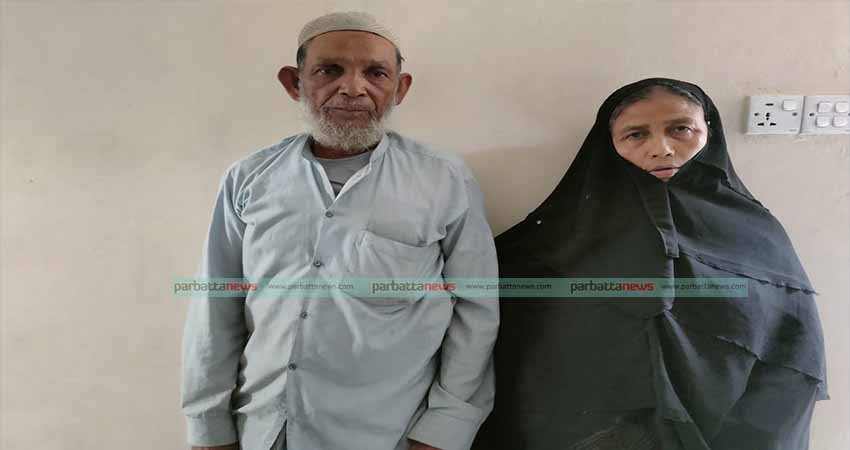 HNEELA CORRESPONDENT
Members of the Armed Police Battalion (APBN) have arrested two Rohingyas – who illegally entered Bangladesh from India – at the Alikhali Rohingya camp in Cox's Bazar's Teknaf.
The arrested Rohingyas have been identified as Jamal, 65, son of one Saidul Islam, and his wife Mst Nur Jahan (60).
They were arrested during a raid at the house of their daughter Gul Morizan, 40, wife of one Rashid Ahmed, at Block-D-20, Alikhali Camp around 8:30am on Tuesday, May 24, 2022.
Armed Police Battalion (APBN) – 18 Commander SP Mohammad Tariqul Islam said the arrested, from india's Jammu and Kashmir, illegally entered Bangladesh via Cumilla border through an unknown broker.
They secretly started living at their daughter's at Alikhali Camp after reaching there by road on Tuesday, May 24.
Acting on a tip-off, the camp-in-charge was told of this. Looking into this, he came to know that the tip-off was true and then members of the APBn arrested the two Rohingyas, who had escaped from India.
The arrested Rohingyas had lived in a refugee camp in Jammu and Kashmir for four years after escaping to India from Bangladesh's Camp-23 (Shamlapur) in 2016, before returning to Bangladesh again.
They have been transferred to Kutupalong Rohingya camp.
Earlier on Thursday, three Rohingyas were detained from the same camp.
They had also recently entered Bangladesh illegally, escaping from India.