Uzra Zeya's visit: Rohingya issue, among others, on agenda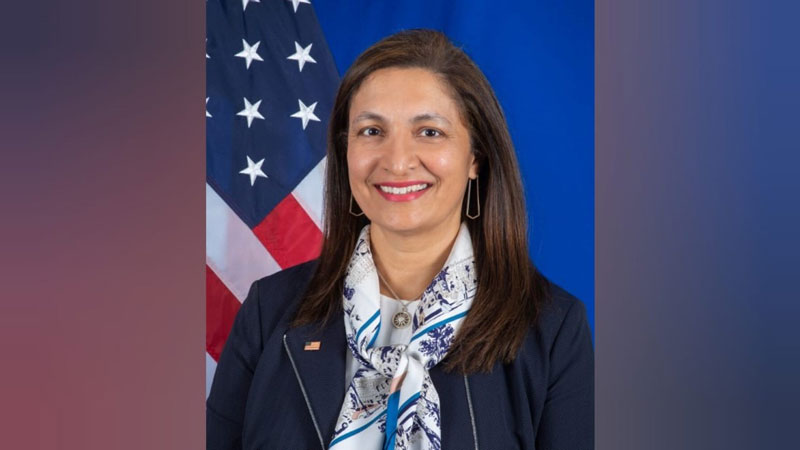 The United States has announced the forthcoming visit of Under Secretary for Civilian Security, Democracy, and Human Rights and US Special Coordinator for Tibetan Issues, Uzra Zeya, to Bangladesh.
In Bangladesh, the under secretary will meet with senior officials to discuss shared humanitarian concerns, including the Rohingya refugee crisis, labour issues, human rights, free and fair elections, and combating trafficking in persons, said the US Department of State on Saturday.
She will be visiting India before her arrival in Dhaka.
"Traveling to India and Bangladesh next week to advance shared solutions to global challenges, contribute to a more free, open, secure and prosperous Indo-Pacific, and bolster humanitarian support for refugees and host communities throughout the region," said the US under secretary.
In India, she will meet with senior government officials to discuss the deepening and enduring US-India partnership, including advancing shared solutions to global challenges, democracy, regional stability, and cooperation on humanitarian relief.
In both countries, Under Secretary Zeya will engage with civil society organizations on freedom of expression and association, and inclusion of women and girls, persons with disabilities, and vulnerable groups, including marginalized religious and ethnic minorities.
She met Bangladesh Ambassador to the United States Muhammad Imran in Washington on Thursday and they had a "productive" discussion.
"Thank you, Bangladesh Ambassador to the United States Muhammad Imran for a productive discussion on democracy, human rights, fair labor practices and humanitarian cooperation. I look forward to deepening our strong partnership," she tweeted.
Under Secretary Uzra Zeya will lead the US delegation during the July 11-14 visit.
US Assistant Secretary of State for the Bureau of South and Central Asian Affairs Donald Lu and Deputy Assistant Administrator of the Bureau for Asia, USAID Anjali Kaur will be part of the delegation.
Foreign Secretary Masud Bin Momen said Zeya is a relatively senior US official and her mandated area is quite wide.
He said Bangladesh's upcoming national election might come up for discussion apart from other issues of mutual interest during the visit of a high-level US delegation.
Dhaka witnessed a series of visits from Washington in the recent past, including a visit by Under Secretary for Political Affairs, Victoria Nuland, in March 19-23, 2022.
Donald Lu also visited Bangladesh earlier this year. Lu has been heavily involved in setting Washington's Bangladesh policy in the recent past.
After the new visa policy was officially announced by US Secretary of State Antony Blinken on May 25, Lu appeared as the public face of the move, making appearances in Bangladeshi media to explain how it would be implemented.
Meanwhile, in a weekly media briefing at the Foreign Ministry, Director General (Additional Charge) of Public Diplomacy Wing Mohammad Rafiqul Alam said the visit of the US delegation led by Uzra Zeya is basically an effort to advance the friendly relations between the two countries and strengthen the communication further.
The US delegation will also visit Rohingya camps apart from their engagements at various levels.
Zeya leads global diplomatic efforts to strengthen democracy, advance universal human rights, support refugees and humanitarian relief, promote rule of law and counternarcotics cooperation, fight corruption and intolerance, prevent armed conflict, and eliminate human trafficking.