Distribution of Eid gifts among 600 families by Guimara's Army Region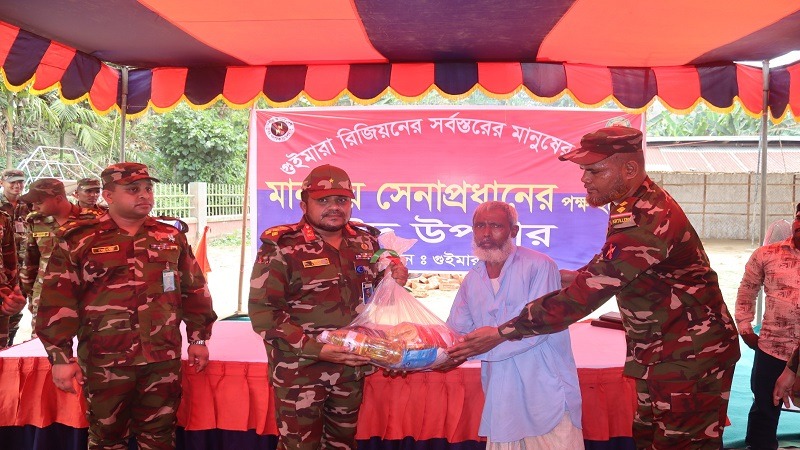 FE ONLINE DESK
To maintain peace, harmony, and development ahead of the holy festival of Eid-ul-Fitr, the Guimara Army Region of Khagarchari is distributing food items to 600 families on behalf of the Army Chief.
On Monday, April 17, the Commander of Guimara Region, Brigadier General Md. Kamal Mamun, visited the homes of vulnerable and distressed families living in the hills and delivered gifts to them.
Besides, all essential ingredients, including rice, pulses, potatoes, onions, sugar, oil, salt, semai (a traditional sweet dish), noodles, powdered milk, poultry, chicken, and spices were distributed as Eid gifts among 600 families on the premises of Ramgarh Upazila's Tholibari Government School, Guimara Upazila's Boropilak Bazar and Budongpara Government Primary School.
The programs began with the chief guest extending advanced Eid greetings and delivering a valuable speech. He called on people everywhere to maintain peace and harmony in the hilly region. He also congratulated the recipients of Eid gifts. The chief guest concluded the speech by presenting Eid gifts on behalf of the Chief of Army Staff.
GSO-2, BM, and other officials of the region were present during the event.